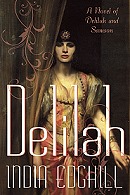 "Richly imagined in hauntingly beautiful prose, India Edghill's Delilah is what the Bible may have been like had it been written by a woman. Delilah is a character whose compelling voice will keep you turning the pages in this truly remarkable story."
Michelle Moran, author of NEFERTITI
Coming November 24th 2009 is India's next novel, DELILAH.
Available now for "pre-order" from Amazon.
A retelling of the story of Samson and Delilah,
DELILAH
completes what turned in to an loosely-knit trilogy:
DELILAH, QUEENMAKER
, and
WISDOM'S DAUGHTER
.

Read an excerpt from DELILAH